PLAN YOUR VISIT
We are delighted to welcome you to The Bike.
Due to the new order issued by Los Angeles County, effective at 11:59 PM on Saturday, 7/17/21, all guests will be required to wear masks indoors -- regardless of their vaccination status. Please refer to the California Department of Health website for additional information and updates.
Thank you for your continued support and understanding.
Please visit our Code of Conduct page to learn more about how The Bike strives to maintain a pleasant and safe environment for all our guests and employees.
Hours of Operation
Indoor Gaming: 24 hours a day
Hotel: 24 hours a day
Hotel Pool: 6AM - 6PM Daily
Hotel Spa: 11:30AM - 8PM, Wed-Sun
Bike Brewery: 24 hours a day
11AM-3AM (Full Menu)
3AM-11AM (Late Night menu)
Phoenix Cafe: 11AM - 3AM Daily
Starbucks: 8AM - 12AM Daily
Valet Service: 24 hours a day
Temporarily Closed
Daily Tournaments
Electric Vehicle Charging Stations
Meetings and Events
Information and Reservations
(562) 806-4646 ext. 7993 & 7991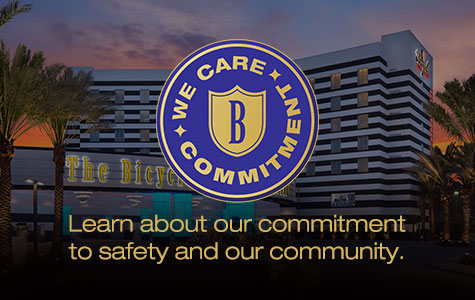 This website uses cookies to enhance user experience and to analyze performance and traffic on our website. We also share information about your use of our site with our social media, advertising and analytics partners. Do Not Sell My Personal Information.
ACCEPT COOKIES