- CODE OF CONDUCT -
Updated: 7/29/21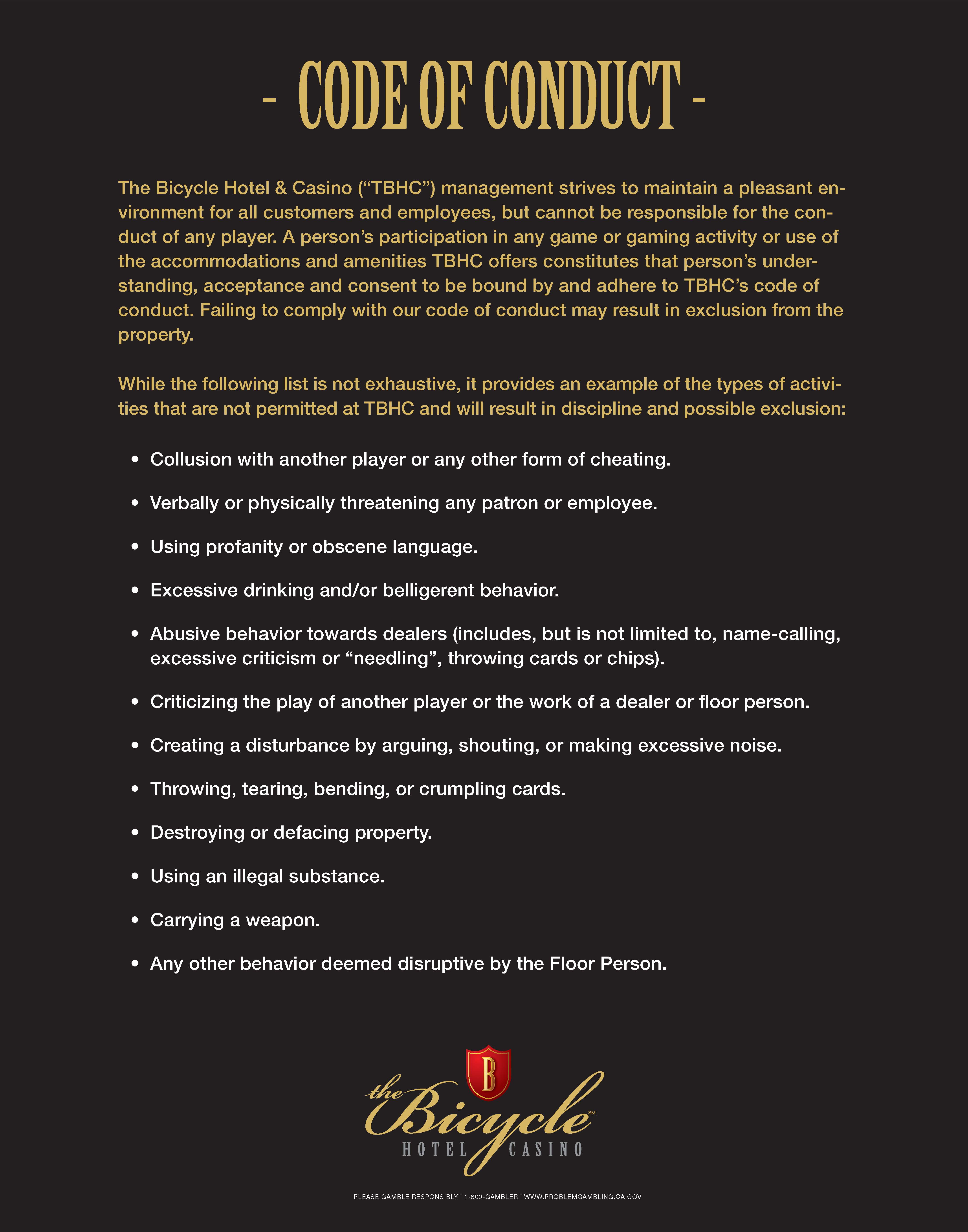 The Bicycle Hotel & Casino ("TBHC") management strives to maintain a pleasant environment for all customers and employees, but cannot be responsible for the conduct of any player. A person's participation in any game or gaming activity or use of the accommodations and amenities TBHC offers constitutes that person's understanding, acceptance and consent to be bound by and adhere to TBHC's code of conduct. Failing to comply with our code of conduct may result in exclusion from the property.
While the following list is not exhaustive, it provides an example of the types of activities that are not permitted at TBHC and will result in discipline and possible exclusion:

Collusion with another player or any other form of cheating.
Verbally or physically threatening any patron or employee.
Using profanity or obscene language.
Excessive drinking and/or belligerent behavior.
Abusive behavior towards dealers (includes, but is not limited to, name-calling, excessive criticism or "needling", throwing cards or chips).
Criticizing the play of another player or the work of a dealer or floor person.
Creating a disturbance by arguing, shouting, or making excessive noise.
Throwing, tearing, bending, or crumpling cards.
Destroying or defacing property.
Using an illegal substance.
Carrying a weapon.
Any other behavior deemed disruptive by the Floor Person.
PLEASE GAMBLE RESPONSIBLY. PROBLEMGAMBLING.CA.GOV 1-800-GAMBLER
This website uses cookies to enhance user experience and to analyze performance and traffic on our website. We also share information about your use of our site with our social media, advertising and analytics partners. Do Not Sell My Personal Information.
ACCEPT COOKIES