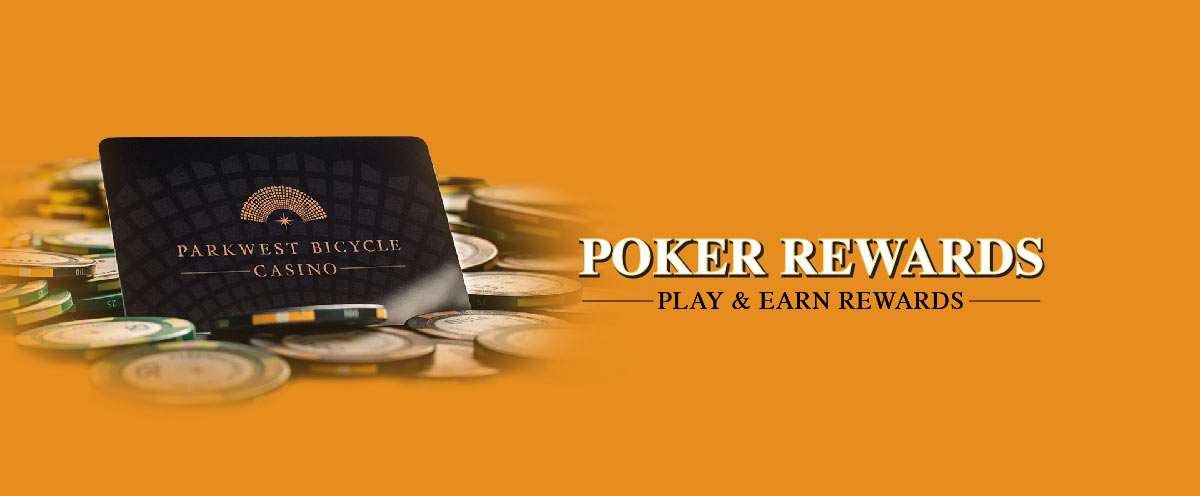 POKER REWARDS
Play & Earn Rewards
$10 in Free Play Per Hour (or $5 in Food & Beverage Credit)
$20/40 Limit Hold'Em / Mix
$80/160 Limit Hold'Em / Mix
$100/200 Limit Hold'Em / Mix
$150/300 Limit Hold'Em / Mix
$200/400 Limit Hold'em / Mix

$5 in Free Play Per Hour (or $2.50 in Food & Beverage Credit)
$5/5 No Limit Hold'Em
$5/5/10 No Limit Hold'Em
$5/10 No Limit Hold'Em
$5/10/20 No Limit Hold'Em
$10/20 No Limit Hold'Em
$25/50 No Limit Hold'Em

$1 in Free Play Per Hour (or .50¢ in Food & Beverage Credit)
$4/8 Limit Hold'Em
$8/16 Limit Hold'Em
$1/3 No Limit Hold'Em
$2/3 No Limit Hold'Em

These amounts may change without notice at the discretion of the casino.
Individuals must be 21 years or older to play. Must present valid ID and be a member of the Parkwest Bicycle Casino Player Rewards Card to participate. Individuals excluded from casino are not eligible. All management decisions are final. See official rules at the Player Rewards Center. PLEASE GAMBLE RESPONSIBLY. 1-800-GAMBLER. GEAR-001291 GEGA-001229, 003963, 004136

Please contact the Player Rewards Center for more information.
This website uses cookies to enhance user experience and to analyze performance and traffic on our website. We also share information about your use of our site with our social media, advertising and analytics partners. Do Not Sell My Personal Information.
ACCEPT COOKIES